25
2011-10
"Select a shop" to "grab a shop"! 300 merchants snatch fashion Tianhe Wangpu
source: browse:13399 Release time:2011-10-25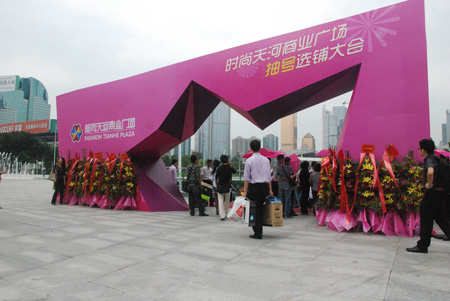 Exterior of fashion Tianhe shop selection Conference
More than 1000 businesses, more than 200 shops, lasting for more than 5 hours, the scene is hot, staged a round after round of "rush to shop" This is the first batch of shops in Tianhe Commercial Plaza on October 25 The vivid portrayal of the activity of "selecting shops by drawing numbers" and several joys and sorrows. In the cheers of the merchants who have selected the "Xinshui shop" and the sighs of the merchants who have not selected the shop, the activity of selecting shops in the fashion Tianhe Commercial Plaza has come to a successful end.
It is understood that the merchants who come to participate in the shop selection activities are mainly small and medium fashion brands. The extremely high entry threshold and the extremely scarce shop seats in the existing business field of Tianhe business district make it difficult for such merchants to get opportunities. The unique "fast fashion" business type positioning of Tianhe business square just makes up for the "vacuum belt" of Tianhe business district since 23 years ago, which can be called Tianhe business The last piece of jigsaw puzzle in the circle, many businesses just saw this huge potential business opportunity, and favored Tianhe fashion one after another.
Fashionable Tianhe shopping mall house
Seizing the last piece of "fashion puzzle" in Tianhe business district 300 merchants "first soup" for wealth
In the 23 years of development of Tianhe business district, no matter Tianhe City, Zhengjia square, or wanlinghui and Taiguhui newly opened, Tianhe business district mainly focuses on large-scale department stores, high-end business and luxury consumption, while the "fast fashion" business district, which focuses on young people, prominent personality and fashion forward, has never appeared, which has to be said to be the majority of businesses and consumers One of the great regrets of the.
In the layout of business forms, the fashion Tianhe business square adopts multiple business form combination modes, such as featured catering, personalized boutique clothing, fashion chain clothing, featured boutique, animation toys, communications, fast fashion brands, aiming to create a colorful consumption mode integrating shopping, leisure, entertainment and experience. Its unique "fast fashion" positioning completely makes up for the vacancy of business forms in Tianhe business district Bai is the last piece of "fashion puzzle", and the wealth opportunity behind it is self-evident. At present, more than 300 fashion trend brands, such as Nike, Adidas, pizza hut, KFC, Sasa, Levi's, RBT xianzhulin and Weiqian ramen, have signed contracts to enter and drink wealth "Eat soup first".
There are lots of people on the spot
20 years of fashion group's entry into Yangcheng city for 2.6 billion to create Guangzhou commercial "fashion storm"
According to the person in charge of the project, as the only major brand in China that integrates real estate development, project operation, mall management and mall maintenance, fashion group has been focusing on commercial real estate for 20 years and has an efficient and first-class operation team. It is known as "Huangpu Military Academy of commercial real estate". In the past 20 years, it has created numerous wealth legends and stories, and the brand reputation of "where the fashion comes, where the wealth lies" All over the country.
Fashion Tianhe business plaza is another large underground shopping mall of fashion group after Shenzhen, Nanjing, Shenyang, Anshan, Chengdu, Hangzhou and other places. The project integrates the essence of 20 years of commercial real estate development and operation of fashion group, and costs 2.6 billion yuan. It is positioned as "the world fashion empire, four-dimensional experience block", aiming to create the most distinctive underground consumption in Guangzhou and even South China Field, creating a new "fashion storm" and wealth legend for Guangzhou business.