06
2011-12
Fashion Tian Hong: a unique underground business model to create on-site Taobao experience
source: browse:7906 Release time:2011-12-06
As 2011 is about to pass, more and more people pay attention to commercial real estate in this year. Some people in the industry say that the golden decade of residential real estate has passed and the golden decade of commercial real estate has come. Transformation of real estate enterprises, transformation of retailers, business development of commercial real estate developers Sing the strongest voice of commercial real estate in 2011. Looking back on the past and looking forward to the future, we are honored to invite Ms. Tian Hong, director of fashion group, to receive an exclusive interview with soufun.com.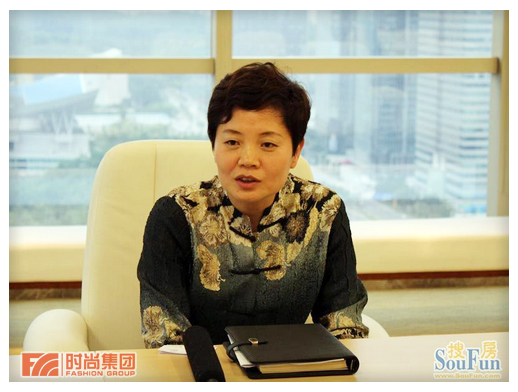 Fashion Group Director Tian Hong
Urban complex will develop very fast in Shenzhen
SouFun: Hello, Mr. Tian! It's a pleasure to invite you to accept our interview. As a Shenzhen person, we are always concerned about the development of Shenzhen. First of all, can you give an overall evaluation of the current commercial real estate in Shenzhen?
Tian Hong: commercial real estate in Shenzhen has developed rapidly in the past two years. As we all know, the state's regulation and control of residential real estate, as many people expect, has appeared the phenomenon of pressing the gourd to float. On the one hand, residential real estate is constantly under control. On the other hand, since 2010, the price of office buildings in Shenzhen, especially in the central area, has increased a lot. I think this should be a very normal and inevitable phenomenon after the regulation. Comparing Shenzhen commercial real estate with Beijing and Shanghai, my feeling is that the development trend is similar, especially the rental price of office buildings may be more reasonable than that of Beijing and Shanghai. I think Shenzhen will be closer to Hong Kong in the future, especially the narrow and long geographical characteristics of Shenzhen, which will form several large urban complexes with rail transit as the carrier and road section characteristics. As you may know, there will be more and more large-scale urban complexes like Vientiane city and coastal city in Shenzhen. I think what will happen to the urban complex in Shenzhen? It will develop very fast.
Not all enterprises are suitable for commercial real estate
SouFun: we know that 2011 is a special year for the real estate market. In this year, more and more people pay attention to commercial real estate. Many developers are seeking transformation. Do you think the transformation of developers is an opportunity for commercial real estate?
Tianhong: commercial real estate is a very general concept, which includes many properties, such as the well-known commercial retail, including office buildings, hotel apartments, and some street shops. Compared with industrial real estate, other categories are classified into commercial real estate. But we need to pay attention to the example I just mentioned. Due to the regulation and control as well as the urbanization process and the improvement of people's consumption level, there will be such a trend, that is, from residential real estate to commercial real estate. I think this is indeed a trend.
So, does it mean that many developers, including many enterprises, are suitable to squeeze into such a field as commercial real estate? I don't think so. Have you noticed that recently, many brand enterprises, such as poly, Vanke, etc., have been gradually marching into the business field, which is related to the development stage of the city and the development process of the city. However, not all enterprises are suitable to share the cake of commercial real estate. Take the urban complex as a separate project, it has very high requirements for developers and government planning. Therefore, although it is a trend, it can not be said that enterprise transformation is an opportunity for commercial real estate. Commercial real estate itself is a very difficult to control and do a good example. At present, looking at the whole country, there are not many successful cases of commercial real estate.
So far, many companies may have greatly improved their project expansion in recent years, including their operation ability. But at this time, I think it's too early for us to come to the next conclusion and say what the outcome of commercial real estate will be.
From the experience of fashion group, we really think that commercial real estate is very difficult. In fact, as an enterprise, we walk on thin ice every day. It is a very difficult process in terms of project selection, project development and operation, and later project promotion. So I'm still very cautious about your question.
The shop development and operation of fashion group is unique
SouFun: Fashion commercial real estate is an enterprise mainly engaged in the development and operation of commercial real estate. Can we ask Mr. Tian to give us a specific introduction to fashion commercial real estate.
Tianhong: fashion has always been committed to becoming a professional shop development operator. How can I describe the main business of fashion? In fact, in this field, you may still stay in the concept of business, such as shopping like Mixc Mall, or the lower end of the street is more casual like the east gate. In fact, the real so-called commercial consumption is generated for consumers. Imagine a city, I believe that not all people will buy luxury goods or famous brands every day, and not all people are willing to buy the daily fashion accessories and articles in a disordered or very noisy environment. In view of this reality, what fashion does is to put together the most fashionable and cutting-edge fast fashion things in our era, and give them a dynamic route, including improving the reinterpretation of products. Simply put, the development and operation of shops by fashion group is actually emphasizing the sense of driving fast fashion consumption with the unique fashion underground shopping street mode.
SouFun: so what kind of planning is there for future fashion in Shenzhen?
Tian Hong: Shenzhen is a young and dynamic city, which also meets our definition of project expansion. The group's future project objectives in Shenzhen will be the same as the group's development principles, with core cities, core business circles and sufficient scale To extend our requirements for project development with great characteristics.
SouFun: we know that fashion has its own very mature business projects in Shenyang and Nanjing. In the future, in the development and promotion of Shenzhen, do these projects have any reference for Shenzhen?
Tianhong: among the projects of Fashion Group Shenyang and Nanjing, those of Shenyang have been more than 10 years, and those of Nanjing have also been 8 or 9 years, both of which have become the favorite shopping bases for local young people. The reason why it can be liked, first of all, the commodities it concentrates can really represent the most fashionable elements in this era. Second, it meets the needs of fashionable young people to change constantly in shopping, including such characteristics as being big brand and being able to afford. The projects in Shenyang and Nanjing are based on the principle that in addition to the wealth of commodities, we also emphasize to provide many fashionable young people with on-site Taobao experience. I don't know if you can understand this, on-site Taobao experience.
View [index] not found. For the future projects in Shenzhen, there will be a lot of things that are worth copying. I suggest you don't think that other things besides shopping mall must be cheap. It's not really shopping Malls can't, what's the key? The key is how to make people feel that your things are most creative. In the project of Shenzhen, we will keep the original part that Shenyang and Nanjing have done well in commercial design. At the same time, we will also combine the characteristics of Shenzhen City, because it is younger and more dynamic compared with Shenyang and Nanjing, including more challenging to shopping malls. Actually speaking, the fashion group has a flagship store in Guangzhou, Guangzhou fashion Tianhe, which will open soon. It is our project in Guangzhou Sports Center, and it is also the largest project of the fashion group at present. I hope that when the Shenzhen project is completed, I can learn from Guangzhou Tianhe fashion.
Shenzhen has better adaptability and adjustment
SouFun: the fashion choice of Guangzhou and Shenzhen for business development is obviously out of a good prospect, so what's your expectation for Shenzhen commercial real estate?
Tianhong: I am not willing to make such a comment and answer to the expectation of commercial real estate. First, maybe we will hear some opinions about prediction and others in many programs. Frankly speaking, what we do is a very subdivided industry in commercial real estate. What we just want to do is the operation of shop development. In the operation of shop development, we just want to subdivide the young fashion trend. But I still know that if Shenzhen is such a city, because its genes are very good, I believe that if under the big trend and law, Shenzhen will have better adaptability and adjustment than other cities.
SouFun: as a store developer and operator, fashion real estate not only enables our businesses to realize wealth appreciation, but also enables our consumers to get a good shopping experience. When doing these two jobs well, is there any experience of fashion that can be shared with us?
Tianhong: we have always stressed that fashion is committed to becoming the best store development operator. What fashion is doing is to solve several difficult problems in business operation. Specifically speaking, there are several difficult problems in business operation: first, location. After the project cooperation with fashion group, no matter hundreds of businesses or thousands of businesses, they don't need to worry about the location, because we have built a very good platform. Second, in addition to the location, the design of shops and the display of commodities are also a big problem. Fashion has a very strong shop design team. Every shop will receive our free training and guidance on business design and display. Even to be honest, we are responsible for the design of his drawings. Third, the source of goods. In fact, we will choose the most discerning businesses from Shenyang to Nanjing and Guangzhou, just like an enterprise must have the best employees to do well. The feature of fashion is that when choosing a business, it is always like selecting employees, not who is willing to cooperate with me, who is willing to pay the rent and give the shop to whom. I think this is a feature of fashion. I just said that we regard him as an integral part of the whole management team. In his follow-up operation, the company has a very strong backstage to guarantee his purchase channels, including the sales skills of the salesmen and the network process of the whole goods. Personally, I think that in such a large business platform, the businessman has a full opportunity to do what he should do well according to his own ideas ——Business, and everything else is done by us. So the characteristics of fashion should be, first of all, his position has the popularity similar to that near the railway station. Second, his products must be fast fashion circulation fast brand. Third, we have businesses with unique vision. Fourth, we provide hotel style property management for all businesses. I think that's what fashion is all about.
Core city, core business district, sufficient scale
SouFun: you just talked about site selection. Can you talk about the selection criteria for future projects in Shenzhen?
Tianhong: as we all know, the oldest saying in business is location. In fact, I think that in different stages of the company's development, including different stages of urban development, we will choose different projects. Of course, we will adhere to our previous rules, that is, the core business district of the core city, including having enough scale, preferably being able to connect with the rail transit, but also helping to improve the city's traffic and provide more convenient travel and shopping for the citizens. I think this is a major direction. There is another direction. With the development of China's urbanization process, we will also consider a more suitable form of parking, including a more suitable urban-rural combination of leisure and entertainment experience. This may be the two major trends of the company's development projects in the future.
SouFun: that is to say, the future expansion is not limited to Shenzhen?
Tianhong: Yes. At present, we are doing business projects in Shenyang, Nanjing, Guangzhou and Shenzhen. In the future, we may be based on our original bases in the Yangtze River Delta and the Pearl River Delta, and some cities in the central and western regions are developing well. For example, Chongqing, Changsha and other places also have some previous project demonstrations.
Fashion is an attitude
SouFun: what do you think is the most attractive part of fashion real estate?
Tianhong: there are two perspectives. I think of myself as a very ordinary consumer or a very ordinary business. I think fashion attracts businesses: first, it does provide more opportunities for many people who want to engage in business operation, unlike many other stores we are familiar with, which need to provide high entrance fees and other thresholds, or even many terms and regulations. The fashionable platform has fulfilled the dream that many young people, including businesses, are willing to engage in commercial retail. Over the years, fashion has more than 5000 business households. From my understanding of them, 60% - 70% of them have realized their dream of being rich because of fashion, which is a very good feeling. As a consumer, I think its biggest advantage is that it completely changes and interprets a concept, that is, fashion is not a big brand, fashion is an attitude, mentality and a habit. This kind of attitude is displayed in the society with a passion, including a change of mind. I think if you are a consumer, you will feel that the shopping experience of fashion is that it can experience the unique and different fashion feeling in your moderate consumption.
SouFun: Well, we also hope that fashion will spread this concept more widely and make more contributions to our society. At last, we take this opportunity to invite Mr. Tian to pay a respects to our friends on soufun.com.
Tianhong: good! With this opportunity, fashion group sends new year's greetings to all users of SouFun. I wish you all a fashionable life, a fashionable mind and a healthy body. We are willing to meet a more fashionable and beautiful tomorrow with soufun.com.
SouFun: Thank you!